BEHIND THE ANALYSIS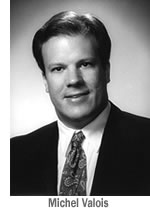 Michel Valois, MBA
After four years spent analyzing newsprint and groundwood specialties and other commodities, Michel spent several years analyzing pulp markets for a major Canadian producer, and representing that firm on the Canadian Pulp and Paper Association's Wood Pulp Data Analysis Committee. In 1997, Michel joined Equity Research Associates, and subsequently purchased the company's Chemical Market Pulp Division after having built a substantial client base. His worldwide clients include pulp producers, paper manufacturers, agents, financial institutions, hedging firms, pension funds and multinational consumer products organizations.
Michel holds a master of business administration degree in international marketing, and a bachelor of commerce degree in management information systems/marketing research from Concordia University.
---
With more than 22 years' experience in industry and as an independent market analyst, VALOIS VISION MARKETING is honoured and pleased to announce that Michel Valois, President and Chief Executive Officer, has been named to the positon of Lead Author for the Pulp, Paper & Paperboard section of the United Nations Economic Commission for Europe's 2012 Forestry and Timber Annual Report.
In this role, Mr. Valois's responsibilities will include writing the North American section of the Pulp, Paper & Paperboard chapter, and coordinating with contributing authors from Europe, the Commonwealth of Independent States and Russis, as well as with data providers, consultants and UNECE executives. Specific functions of this position include editing and integrating analytical material, including data, and identifying relevant topics affecting the global industry.
---
For further information, contact Michel Valois at michel@valoisvision.com SUBSCRIPTION FORM